Paragon 28®, Inc. Adds to its Growing Portfolio of Minimally Manipulated Allograft, Launching the ParaDerm® Non-Fenestrated (NF) Dermal Matrix
A patent-pending minimally manipulated biocompatible graft that supports cellular attachment and infiltration
NEWS PROVIDED BY
Paragon 28, Inc. 
December 2, 2021
ENGLEWOOD, Colo., December 2, 2021 — Paragon 28® is pleased to announce the launch of its ParaDerm® NF Dermal Matrix providing surgeons a structural allograft for applications beneath the skin in cases where additional structural value is desired. ParaDerm® has a rich clinical history (over ten years of implantation) and is produced using a highly technical process that reduces nucleic acids and other antigenic materials while preserving the collagen matrix.1 This extracellular matrix promotes cellular infiltration, attachment, and cell proliferation at each stage of the healing process.1 This biologic process is crucial to the integration and remodeling of the allograft by host cells.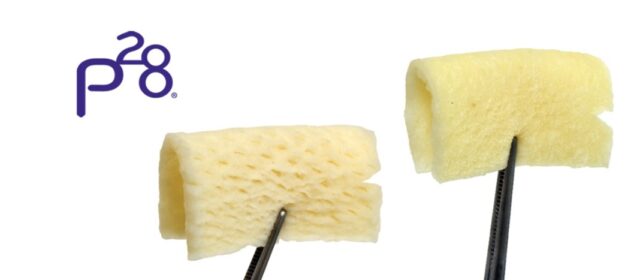 ParaDerm® and ParaDerm® NF are available in 4×4 mm and 4×8 mm sizes to cover a variety of wound sizes and available in multiple thickness to support different applications. A novel freeze-drying process minimizes moisture content and subsequent ice crystal formation preserving the integrity of the graft. ParaDerm® preparations incubated in cell culture vessels with fibrosarcoma L929 cells showed these cells attaching to and infiltrating the ParaDerm® Matrix by day five.2
"Paraderm NF is a important step in providing a full soft tissue solution for our surgeons," stated P28's Executive Vice President of Sales, John Shumaker. "From Preserve to Paraderm we find aseptic minimally manipulated tissue has provided the clinical performance surgeons look for in treating their patients."
The addition of the ParaDerm® NF bolsters Paragon 28's PRESERVE® Biologics product offering, which includes the PRESERVE® Bone Wedge System, BEAST™ Demineralized Bone Matrices, and V92™ Cellular Bone Matrices. With this comprehensive portfolio, Paragon 28® provides its customers innovative solutions for wound care and reconstruction.
About Paragon 28, Inc.
Paragon 28®, Inc. was established in 2010 to address the unmet and under-served needs of the foot and ankle community. From the onset, Paragon 28® has made it our goal to re-invent the space of foot and ankle surgery. We believe that through research and innovation we can create new and improved solutions to the challenges faced by foot and ankle specialists.
Product Page:
https://paragon28.com/products/paraderm-dermal-matrix/
CONTACT: Jim Edson, VP of Downstream Marketing – [email protected]
1. Morris PR, Kast N, Temple TH, Wolfinbarger L, 2012, Regenerative tissue matrix, US20140341871A1
2. Delcroix, GJ. et al. Decellularized human dermal matrix for wound healing. University of Miami Tissue Bank, Miami FL. ORS 2013 Annual Meeting. Poster No: 0440