Paragon 28 Launches JAWS™ Great White Staple System Further Expanding its Nitinol Staple Offering
ENGLEWOOD, Colo.–(BUSINESS WIRE)–Paragon 28, Inc. (NYSE: FNA) is pleased to announce the launch of its JAWS™ Great White Staple System which was developed to provide for increased strength and stability of the osteotomy or fusion site when compared to traditional staple systems. The staples feature an ultra-low-profile bridge with increased surface area to enhance stability while minimizing soft tissue irritation. The newly designed staple has 400 times the fatigue life compared to a competitive nitinol staple subjected to the same load parameters.1 The shoulders of the staple work in conjunction with the inserter allowing the staple to be fully seated prior to compression activation limiting the need to tamp. The staples were designed to provide a uniform compression profile across the osteotomy and provide a 169% increased compressive force when compared to the average of a competitive marketing leading two-prong, nitinol staple.1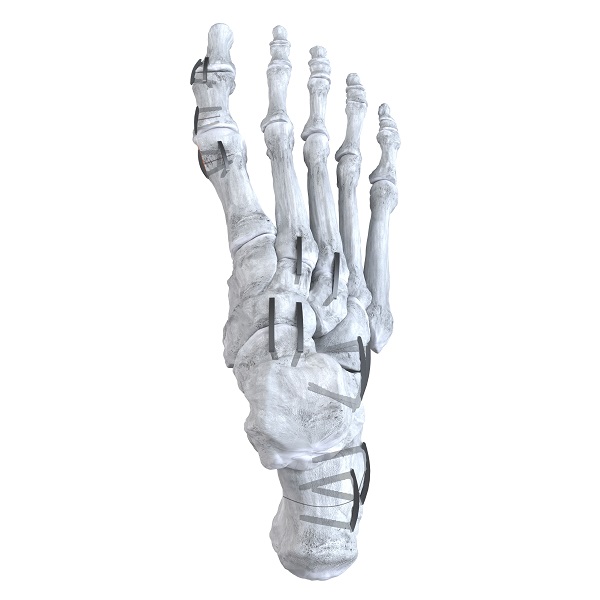 Paragon 28's CEO, Albert DaCosta, commented, "We are excited to continue to expand our JAWS™ staple offering allowing surgeons to address the complexities of midfoot and hindfoot reconstruction. Our development team has designed implants which provide for greater fatigue resistance and increased compression when compared to market leading nitinol staple systems. We look forward to increasing our market position in the midfoot and hindfoot segments with this exciting offering."
The addition of the JAWS™ Great White Staple System bolsters Paragon 28's hindfoot solutions product offering, which includes the Gorilla® Ankle Fracture Plating System, APEX 3D™ Total Ankle Replacement, Silverback™ Ankle Fusion Plating System, Phantom® TTC Nail System, and Phantom® ActivCore™ Nail System. With this comprehensive portfolio, Paragon 28® provides its customers with innovative ankle solutions for trauma, arthritis, and limb salvage.
About Paragon 28, Inc.
Based in Englewood, CO., Paragon 28, is a leading medical device company exclusively focused on the foot and ankle orthopedic market and is dedicated to improving patient lives. From the onset, Paragon 28® has provided innovative orthopedic solutions, procedural approaches and instrumentation that cover a wide range of foot and ankle ailments including fracture fixation, forefoot, ankle, progressive collapsing foot deformity (PCFD) or flatfoot, Charcot foot and orthobiologics. The company designs products with both the patient and surgeon in mind, with the goal of improving outcomes, reducing ailment recurrence and complication rates, and making the procedures simpler, consistent, and reproducible.
1. Internal Test Data on File